Wow, what a year last week was!
Starting Sunday evening, we were greeted with the usual bad news at our "Family Meeting" and prepared ourselves for another couple of weeks under level 4.3.1 version 3 of lockdown, but jokes aside, no one could predict the devastation that followed come Monday morning.
CHAOS ENSUED
For whatever reason, albeit the "Free Zuma" campaigners, opportunists, organised crime syndicates or all of the above, KZN and Gauteng woke up to widespread looting, unwarranted destruction and gunshots echoing all across the city. This relentless attack on shopping malls, distribution centres and any retailer that stocked items of value, were completely gutted.
STAND TOGETHER
Neighbourhoods that were yet to face this enemy, quickly scrambled together their communities and volunteers to form a united front to protect their homes, families and businesses. Setting up barricaded checkpoints and 24hr patrols to ensure that these individuals wouldn't succeed in laying waste to their neighbourhood businesses. Armed with anything from golf clubs and hockey sticks to the hunting enthusiast yielding their rifle and panga, communities came together like never before. People of all races came together to protect their piece of freedom, but what followed is truly something we South Africans can be really proud of.
The devastation caused by these criminals, left many businesses in ruins (not to mention the resulting unemployment of many breadwinners and single income households). As a result of these riots, many retailers chose not to operate in fear that they may be targeted. Those brave few that kept these communities fed, quickly ran out of essential food items. With main transport routes still under threat, our biggest fears were realised – how do we feed our families tomorrow?
EVERYDAY HEROES
The everyday South African is capable of incredible things when faced with daunting challenges. Armed with the true spirit of Ubuntu, community groups on social media, expats and anyone that knew someone that knew someone, we found courage and came together to bake bread, put our lives at risk to personally transport essential goods across provinces, as well as chartering flights to bring in essential baby items like nappies and formula. These acts of togetherness are truly what makes South Africans great.
TIME TO REBUILD
But it didn't end there… We still needed to rebuild. Once the dust had settled, the heartbreak that many businesses were faced with is not something that we should be encountering in an already fragile economy that is plagued by an astronomical unemployment rate. The daunting task of trying to figure out where to begin when you've lost everything you have built, doesn't offer much motivation.
The spirit of Ubuntu is like a shot of adrenaline straight to the chest. Day by day, communities all across the province refused to remain defeated. Armed with refuse bags, brooms and the resilience and determination to help those most in need, these heroes offered these business owners the hope they so desperately needed during the darkest of days.
#REBUILDKZN
The South African spirit will burn higher than the flames around us and is knowing that we're all connected. That one can only grow and progress through the growth and progression of others. At Expand a Sign, we channelled this spirit and energy into our #RebuildKZN campaign by offering any business in the Durban and surrounding areas a free banner to promote their solidarity in supporting those most effected by the recent riots.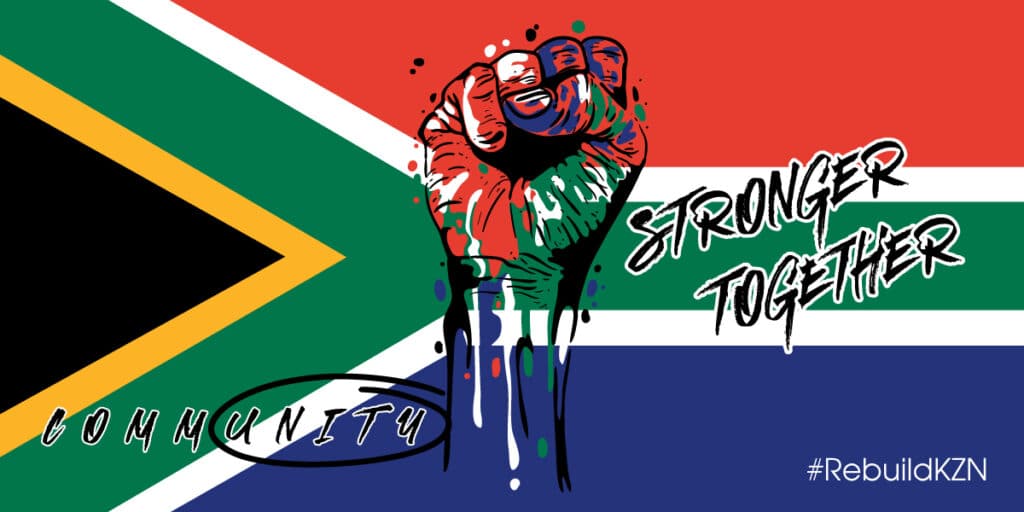 THANK YOU
A special shout out to all the other amazing companies and organisations who requested their banners, and will be displaying them proudly very soon:
Vision RSM
HUL International
Wendies 4 Kids
St Henry's Marist College
Pro-Print
Chalupsky Properties
Glenwood Community Watch
Dolphin Mile Events
SMG Ballito
Re/Max Panache
Rogan Heyns Biokineticist
Lambert Brothers
Airco
Platinum Consulting
Durban Girls College
Hilton College
Fordoun Hotel & Spa
SPAR Mtunzini
Eston Primary School
Marine Surf Lifesaving Club
Sodurba Community Tourism Organization
Virtual Office Pro
National Bioproducts Institute NPC
On behalf of our Expand a Sign community, we want to extend a warm-hearted thank you to all the amazing communities that came together to protect our families, homes and businesses, and to all those selfless individuals that banded together to help rebuild.
We FALL, we BREAK, we FAIL.
But THEN,
We RISE, we HEAL, we OVERCOME
"Valarie Johnson"