Not all banners are created equal… Now there's some food for thought. Branding is an investment and an extension of your brand, and as consumers we have many choices to consider when choosing which banners or other branded material to use outside our businesses or at events. One thing's for sure, quality needs to be at the forefront of any decision when it comes to branding as this greatly affects how your customer perceives your brand in the public eye. Quality has been and always will be key for us at Expand a Sign. We take Research and Development seriously – merging the elements of value, ease of use, durability and aesthetics into the high quality products 87 of the world's top 100 brands have trusted over the years.
Here are some examples of how quality products combined with proper care can prolong the life of your banners.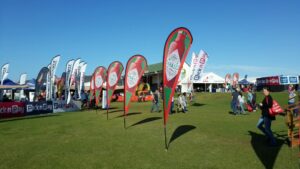 Photo taken in 2015 – 6 years old
Photo taken at this year's SANI2C – 11 years old
Aristotle said. "Quality is not an act, it is a habit". We also have a Greek-like philosopher here at Expand a Sign in the form of our CEO, who regularly says. "Only the rich can afford to buy cheap".
So what does this mean?
Drive around town and the cheap branding definitely stands out like an sore thumb. Bent out of shape, fabric wrapped around the hardware, torn and even broken – leaving the customer to have to purchase new branding (if they're in the financial position to do so).
You wouldn't be at fault for thinking that the branding is old and has run its' course which is why it looks worse for wear but in most cases, these examples are only a couple of months old.
We're not saying that we're perfect as we do experience issues similar to these but it's in our efforts to ensure that these issues never happen again is what sets us apart.
The banners below are just over 1 year old and haven't had the luxury of being put up and taken down between events. They've had to endure the beating of Durban's unpredictable weather system and I must say, they still continue to stand proud.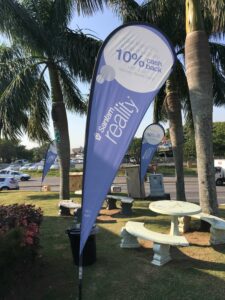 Your branding says a lot about you and your brand. Think about it… 99% of the time, we as consumers interact with the brand itself before the product or service offered. Whether it's through various media channels or branding, our initial engagement is on an emotional level.
Whether you're a moms & pops store or the next global powerhouse, you've invested time and money into your brand. So don't let your brand be let down by your branding. First impressions last, so Invest once instead of buying twice.