Whether you're looking to gain impressions for your brand, showcase a special promotion or you just want to maintain your brand's presence in the market, Branded Gazebos offer a solution like no other.
An expertly designed and printed Gazebo allows you to promote trust and foster engagement with potential customers, by advertising your value proposition in a professional way that everyone can see. This has the potential to significantly increase the number of conversions you get during your event.
With so many suppliers claiming to provide high-quality Gazebos at varying prices, it's easy to get caught up in all the noise without fully understanding what you're getting, does it even fulfil your current and future event requirements, and will it even last longer than a Hollywood relationship.
Our team have taken all these concerns and have put together this detailed article to help you determine whether or not you feel a Branded Gazebo can give you the competitive edge you need at your next event!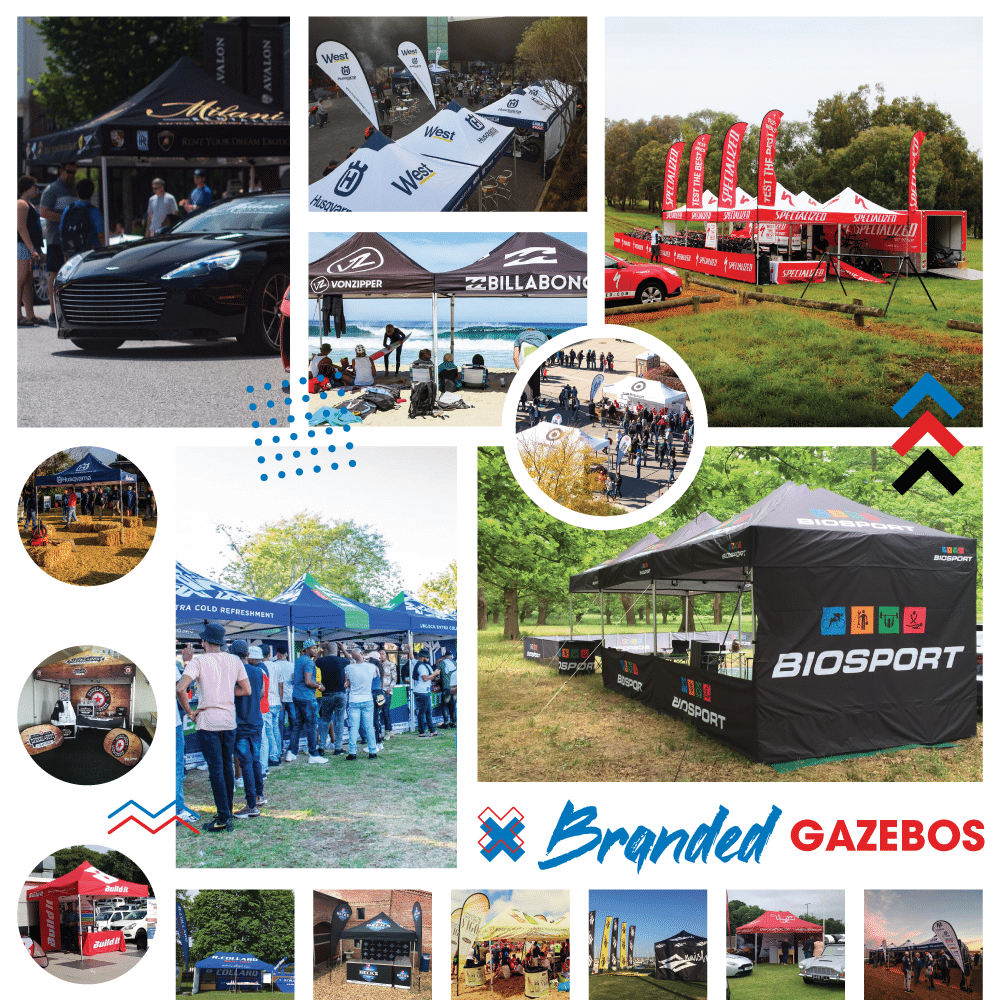 Your event setup will feel professional
Instilling confidence in your customers through a professional event setup is instrumental in growing engagement at an event, and ultimately sales. Not only does this make it clear to your customers that you take your brand seriously and have spent time and money investing in it, but they'll be able to infer that your level of professionalism translates to the product or service you're offering.
Customers do judge books by their covers
Branding must be seen as an investment and an extension of your brand and 7 out of 10 marketers (the other 3 are wrong), agree that branding is critical to a business' success. Why is this?
Think about it… 90% of the time, your customer interacts with your brand on a visual level before they even commit to the product or service you're offering. Whether they see it in-store or on TV, carrying that subliminal messaging through to your event setup, is a key driver for customer awareness and engagement. So why detract from this by placing it on poor-quality branding?
With a Branded Gazebo, whether someone is standing in front of your setup or 10 setups away, they're going to see your branding. These impressions are invaluable to boosting your awareness at events. But that's not saying this is the case for everyone that has a Gazebo. If your gazebo is plain, you're essentially missing out on a incredible opportunity to promote your brand and value proposition, so put some thought into your design.
Use every opportunity to drive sales
One of the key drivers of consumer activity at an event is an attractive promotion. For example, you're at a beer festival and you're promoting your new craft beer with an incredible two for one special. Now you can be sure that anyone passing by your stand will be drawn to your offer. This may be good enough, but what if you're at a much larger event with a very basic and plain setup? You can only realistically attract those who get close enough to your stand and read the offer you've placed on a pull-up banner, written on a chalkboard or placard on your counter.
A Branded Gazebo can break through that barrier of event noise. You are able to advertise your value proposition in a way that is clear and stands out in our crowd of event stands, thereby significantly increasing foot traffic to your stand and potentially the number of conversions you get during your event.
More than meets the eye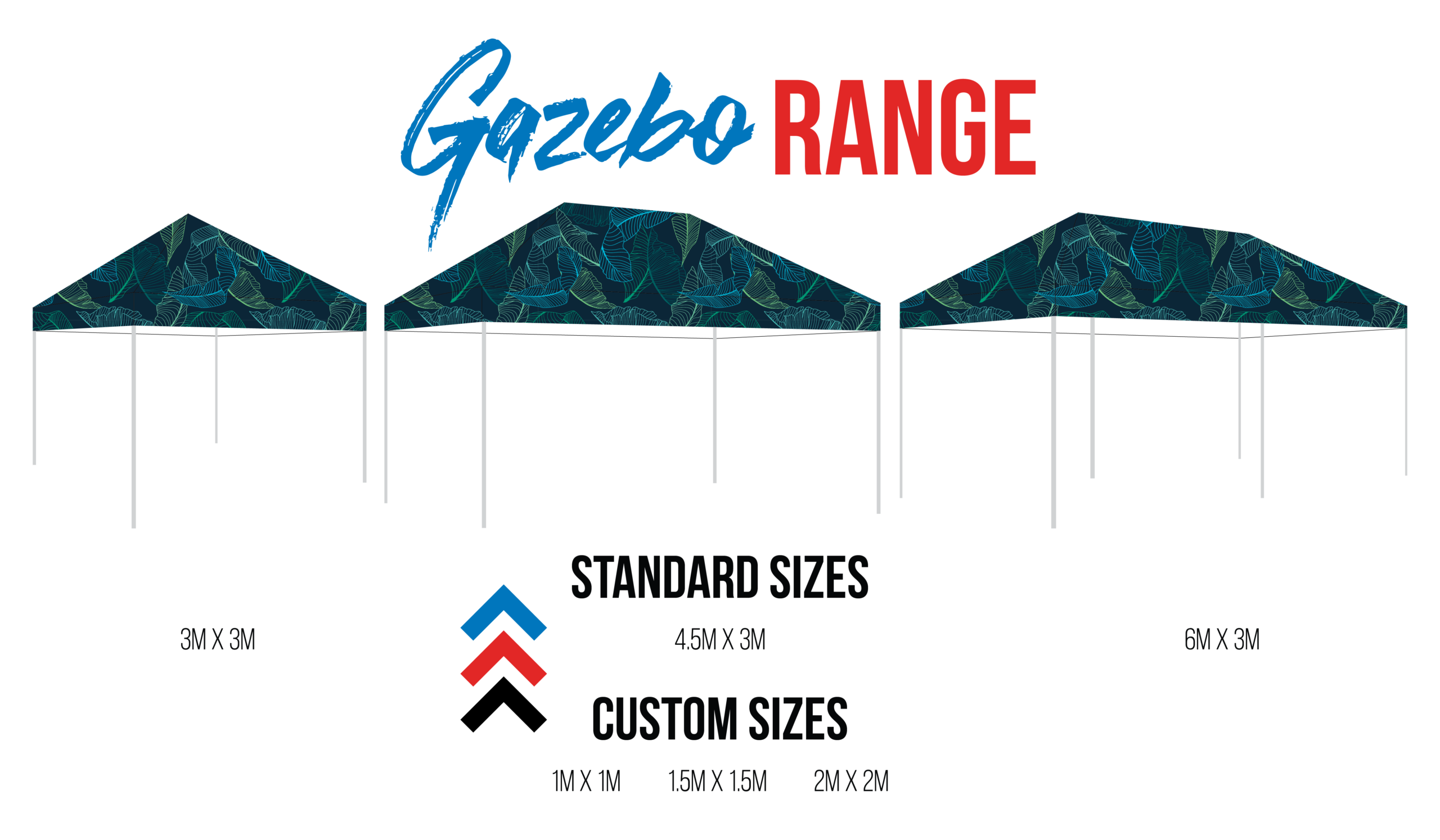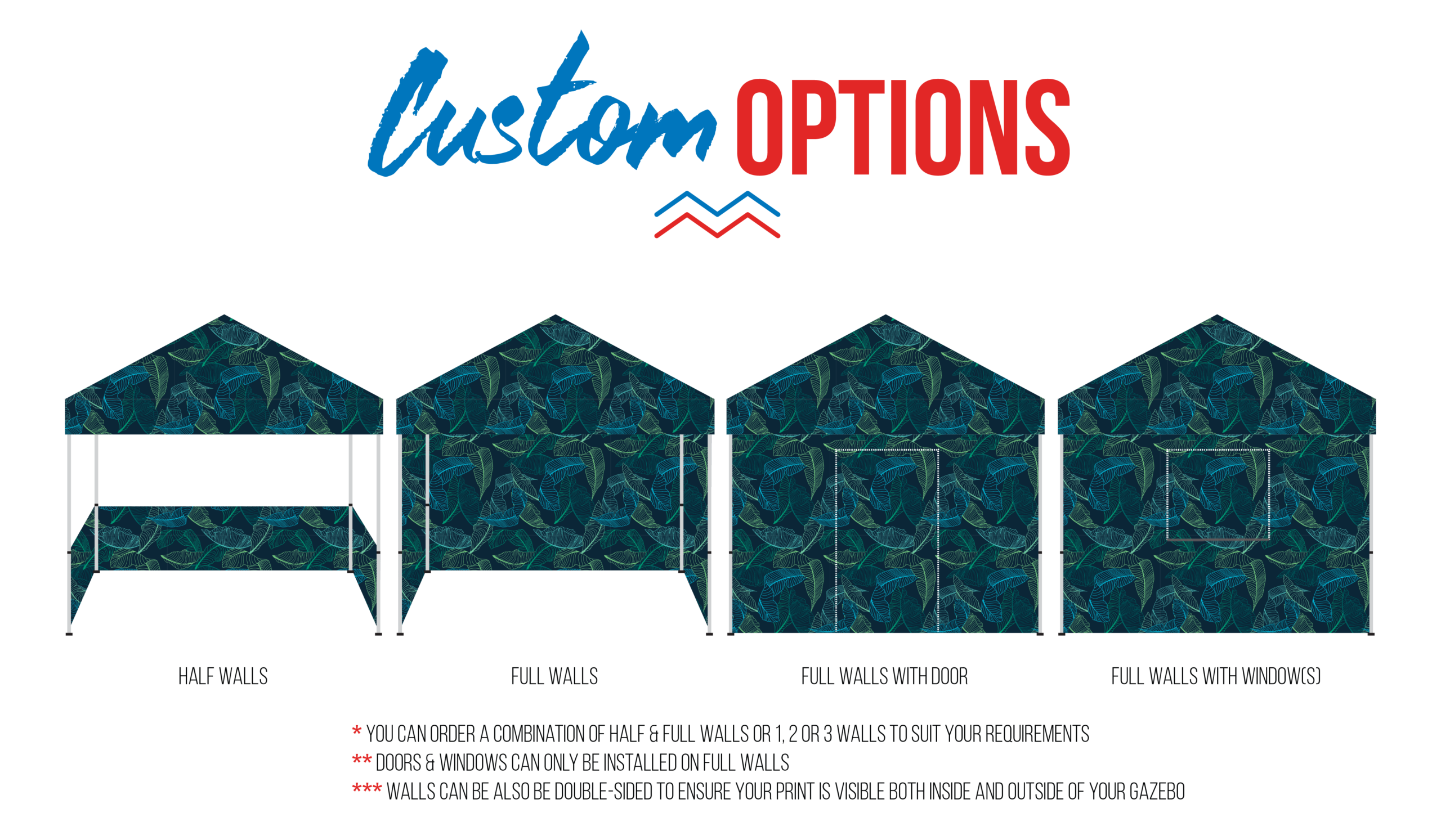 When most people think about Branded Gazebos, they visualise a printed fabric top with either a steel or aluminium frame and for most, this is all they need. However, a Branded Gazebo can offer so much more functionality that is often overlooked.
The uses for a Branded Gazebo are near endless. From a Pop-Up Shop or Exhibition Stand to an Event Stall or Privacy Tent to administer health services – Gazebos provide you with an instant mobile solution like no other. From sizes 3m, 4.5m and 6m to custom options which include: single or double-sided half and full walls, doors, windows and rain gutters (when joining 2 Gazebos), your imagination can truly run wild and maximise your branding investment.
What these options also provide, is the ability to maximise your brand's exposure by promoting your brand's value proposition and information on more that just the roof top.
Only the rich can afford to buy cheap
Now, we've all heard the saying; "Measure twice, cut once". Now this very apt saying applies when you invest in branding.
With the current economic climate, we're forced to find new ways of saving money and become bargain hunters because hey, there's always someone who'll do it cheaper… but at what cost?
Being frugal doesn't just mean saving money and buying cheap – it means spending your money wisely. As Marketers, It's easy to get caught up in just buying the cheapest serviceable version of whatever you need, as long as you keep "saving money". We've all made the mistake – choosing cheap over quality as a result of tightening budgets.
This decision usually costs us more in the long run when the voice of reason and good business sense points towards choosing quality over cheap for a greater return on investment. Just remember – long-term value over short-term success wins every time.
Now let's take a deeper look into the quality details of our Branded Gazebos.
Frame: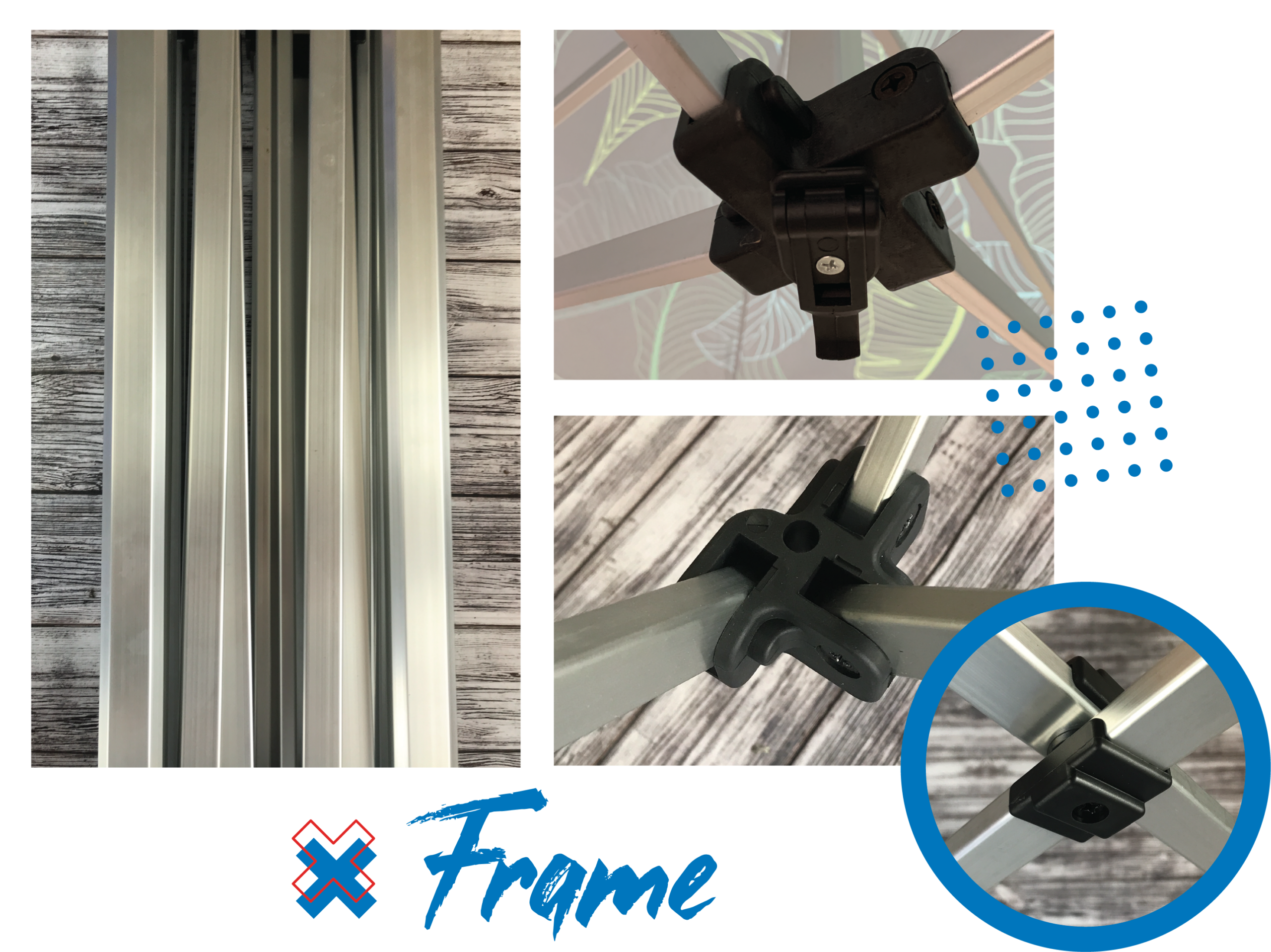 We only offer aluminium frame Gazebos as they're significantly lighter and corrosion resistant when compared to cheap steel frame Gazebos.
The 1.2mm wall thickness on our 40mm hexagonal legs and struts are supported by heavy-duty nylon plastic fittings, making them extremely durable and easy to repair.
The frame also offers an advanced height controller with a winch and the legs offer 3 height settings to allow for a perfect roof fit every time.
Fabric: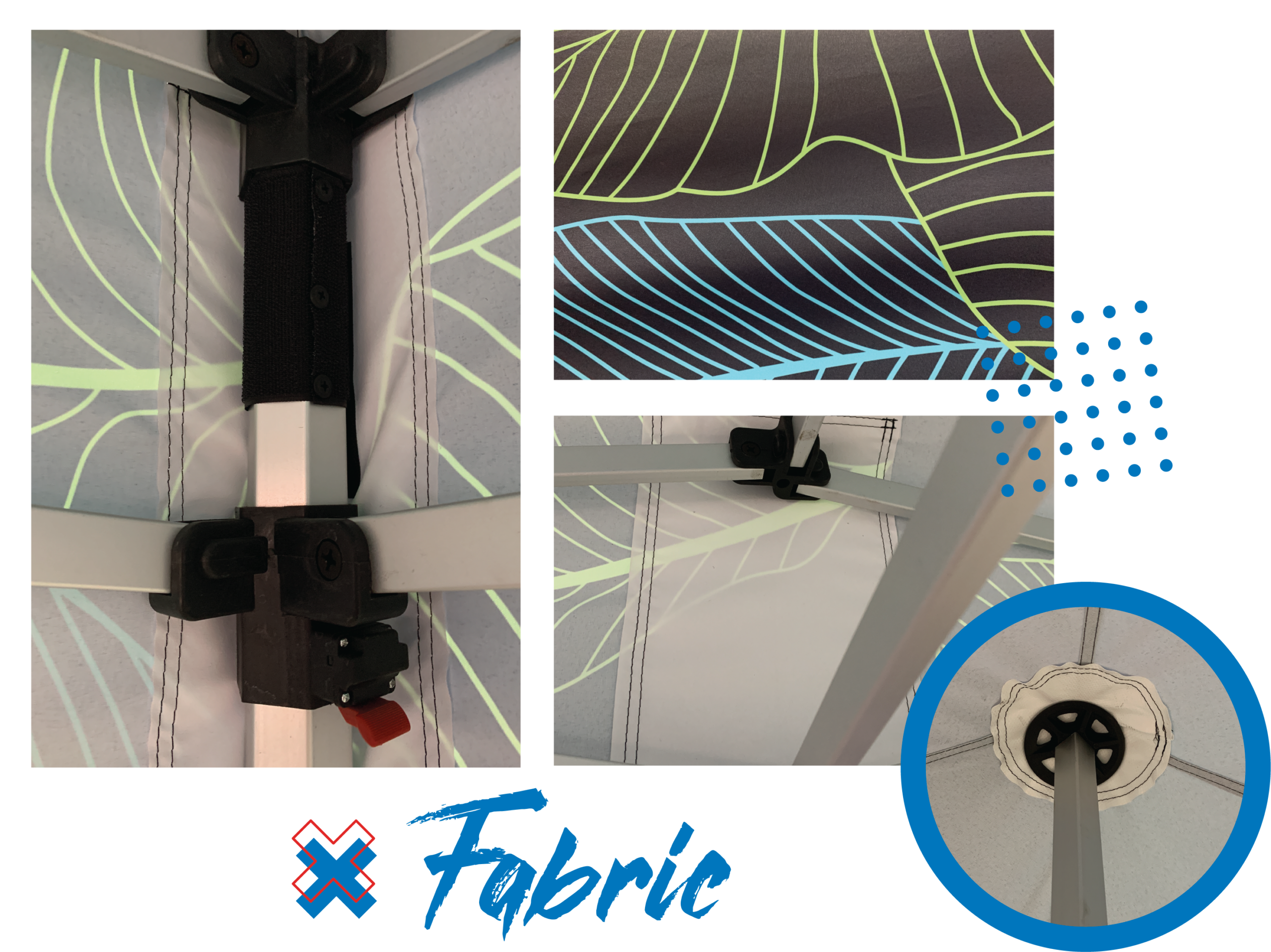 As we weave our own fabric from scratch, we are able to control the quality and ensure we offer our customers the best and most reliable product on the market.
Our 230gsm 100% polyester Gazebo fabric is coated with light fasteners, dirt and water repellent to ensure your branding can withstand the elements and everyday use.
Each corner and the top of the Gazebo is further reinforced to minimise wear and tear on these contact points.
NB: If your Gazebo fabric gets dirty, simply use warm, soapy water and a sponge to clean. Ensure that you only place it back in the bag when it's completely dry to avoid mould.
Printing:
Anyone that knows us, will know how much sustainability means to us and that we're constantly pioneering new ways in which sustainability remains at the forefront of our supply chain, manufacturing, and product development.
Our inks are no exception. Our dye-sublimation inks are non-toxic and water-based, whereas our UV inks are Greenguard certified.
NB: We offer a 2 year NO FADE guarantee on our UV prints, which are ideal for Branded Gazebos that are used on a daily basis.
Accessories: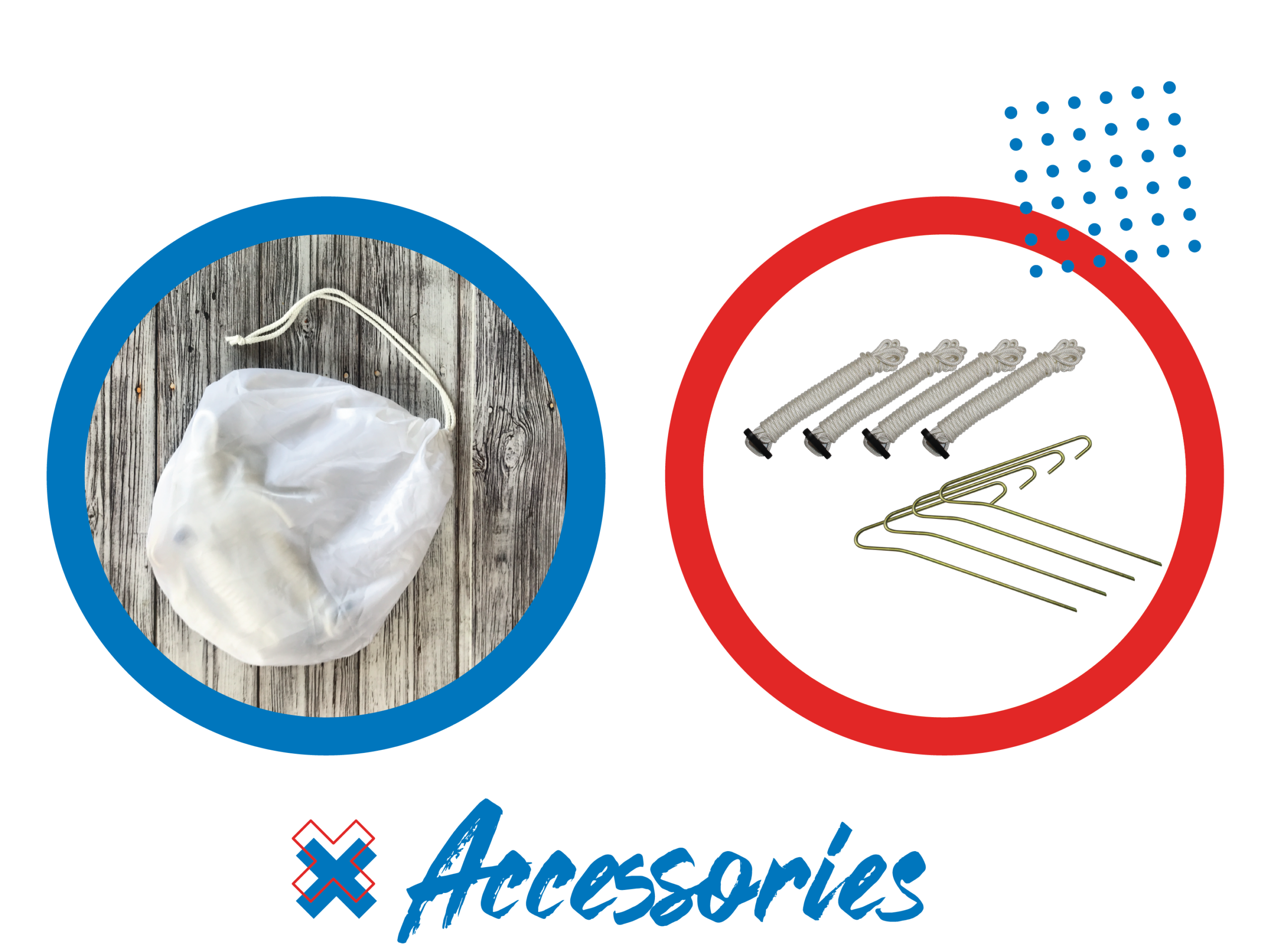 Each Gazebo is protected in a 100% woven polyester bag which includes a waterproof lining. Inside the bag, we supply 300mm x 6mm steel anchor pegs and 6mm polyester braided guy ropes for extra stability during windy conditions.
Weight Options: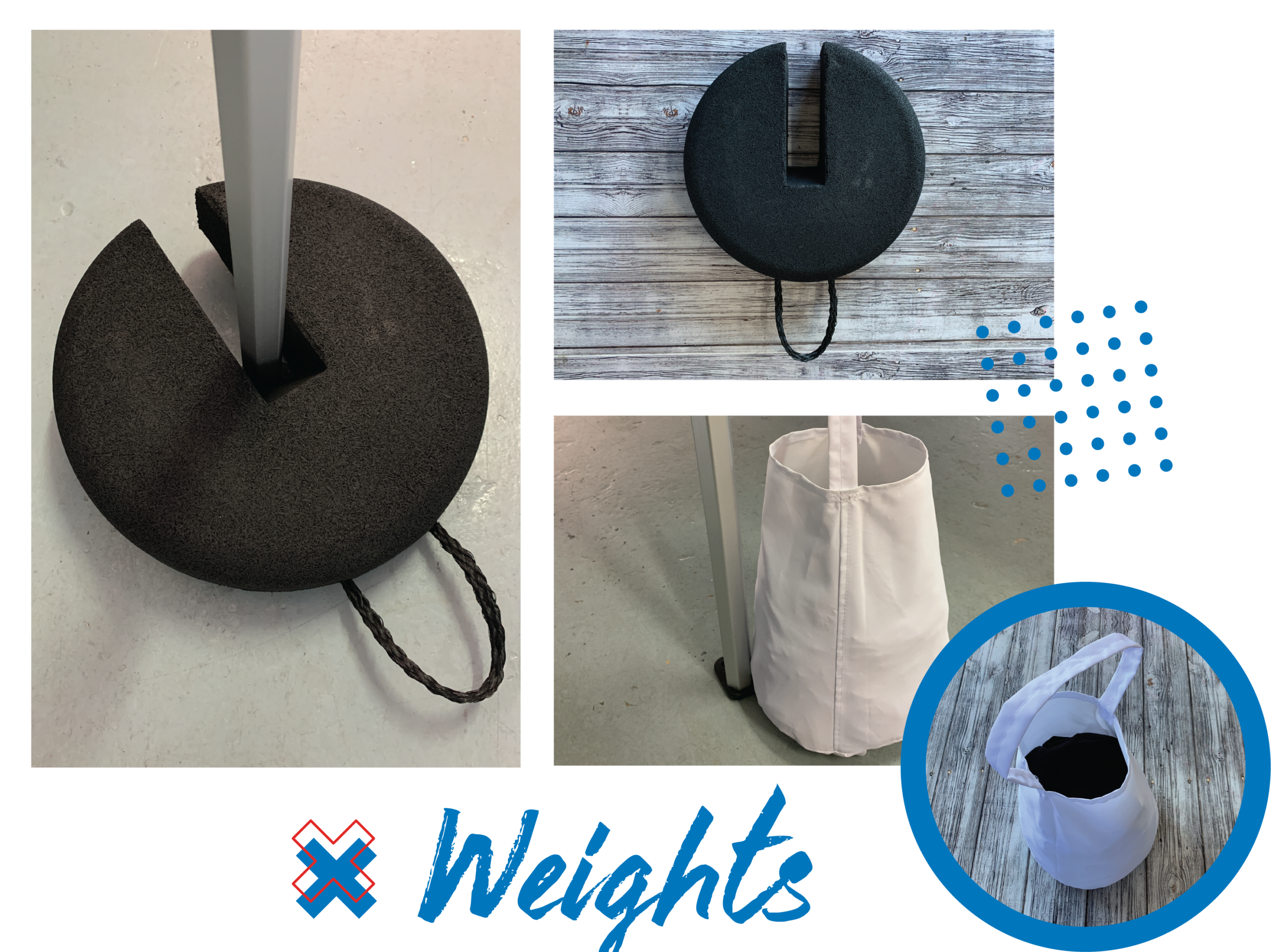 Now, you may not always have the ability to secure your Gazebo using the guy ropes and pegs provided – especially on hard surfaces. So we have a few weighted options to choose from depending on your budget and requirements.
Our rubber weight weighs 10.6kg and slides onto the Gazebo foot whereas our sand bag, comes in 3 fabric options: White (230gsm polyester) and silver or black woven polypropylene. These are secured by fastening each bag to the guy ropes supplied.
As you can see, the possibilities of Branded Gazebos are only limited by your creativity! We hope that our insight has helped take the uncertainty out of choosing the best option for your event, so you can focus on what really matters – and that's pulling off a great event.